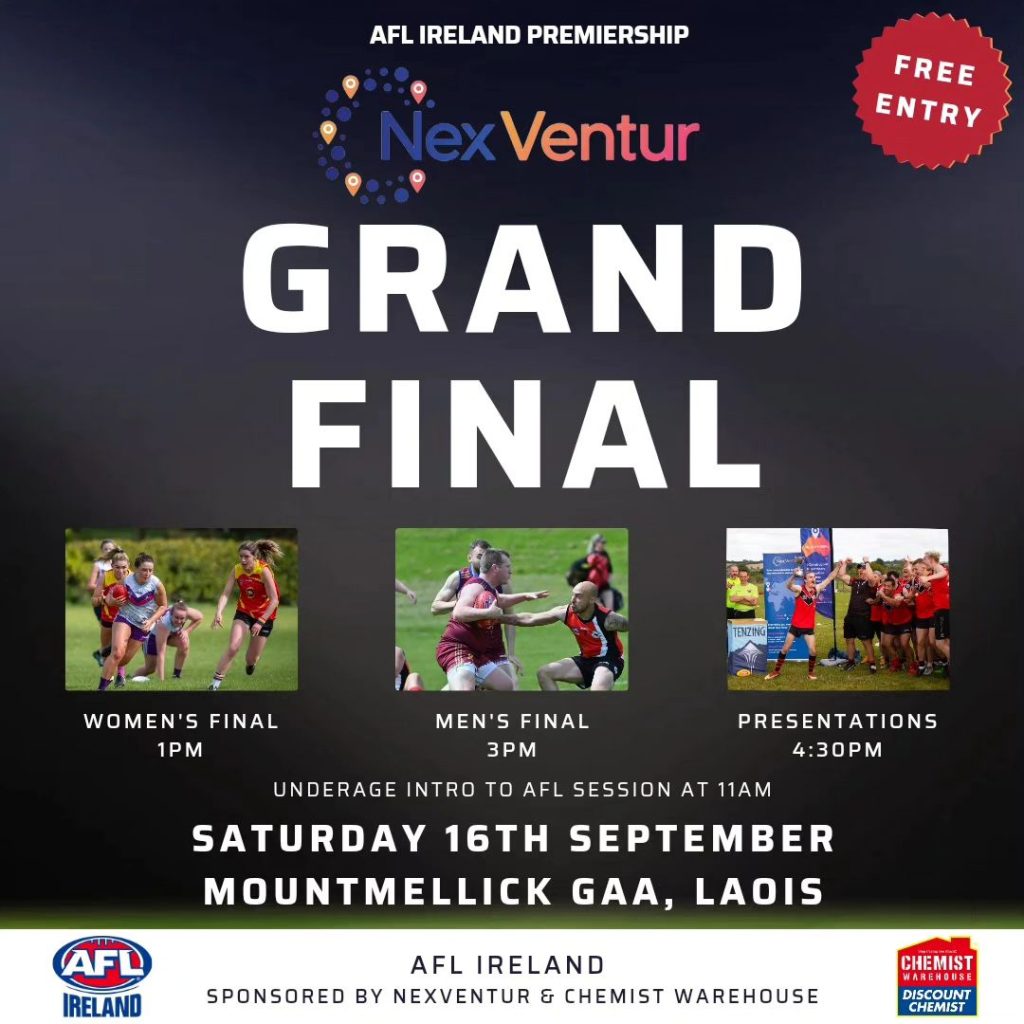 The AFL Ireland Nexventur Grand Final will be taking place in Mountmellick GAA. The day will begin with an underage "Intro to AFL Session" at 11am for younger athletes who are interested in trying AFL and learning basic skills. This event is open to all and free entry with the women's final taking place at 1pm while the men's final will be at 3pm.
Not only is Laois a central location for everyone to travel to, the knowledge and interest in AFL has grown significantly in Laois as some of their top athletes and GAA stars have headed to Australia to turn professional. This includes new AFLW signings Erone Fitzpatrick for Carlton and Jane Moore for Southern Saints, and the legendary Zach Tuohy who won the AFL title with Geelong Cats last year. With such talent coming from Laois, it's only natural to have the Irish AFL Grand Final there!
Throughout the past 5 months, the men's and women's AFL teams around Ireland have been taking part in the Nexventur AFL Premiership, in which they have travelled length and breadth of the country to compete against one another. These teams hail from every corner of the country, including Cork, Dublin, Galway, and Belfast. The Grand Final will see the top two teams go head-to-head and battle it out to secure the Irish title.
This will be the ultimate showdown between two fierce rivals that showcases the athleticism, team spirit, and unwavering passion that defines the unique sporting culture of Australia in Ireland! It's an exhilarating spectacle and encourage sports enthusiasts to tune in and experience the magic firsthand. Dingo Dave will be on the BBQ, drinks, teas and coffee all available. Don't miss out!